Latest News
Latest News
26th June 2019 - Rotatrim Paper Cutters
Rotatrim paper cutters have been added online to make your ordering process even easier. Just add your selected model to your basket, then checkout and we'll take it from there. Expect your delivery within 24-48 Hours.
---
17th May 2019 - Eco Friendly Binding Covers
Coming soon to The Binding Box - 100% Plastic Free Binding Covers. Clear Glass A4 packed in 200's @ £39.00 + VAT per pack.
180 Microns, 100% Bio-Degradable, 100% Recyclable.
As soon as stock arrives you will be able to order online, in the meantime please register your interest via info@thebindingbox.co.uk.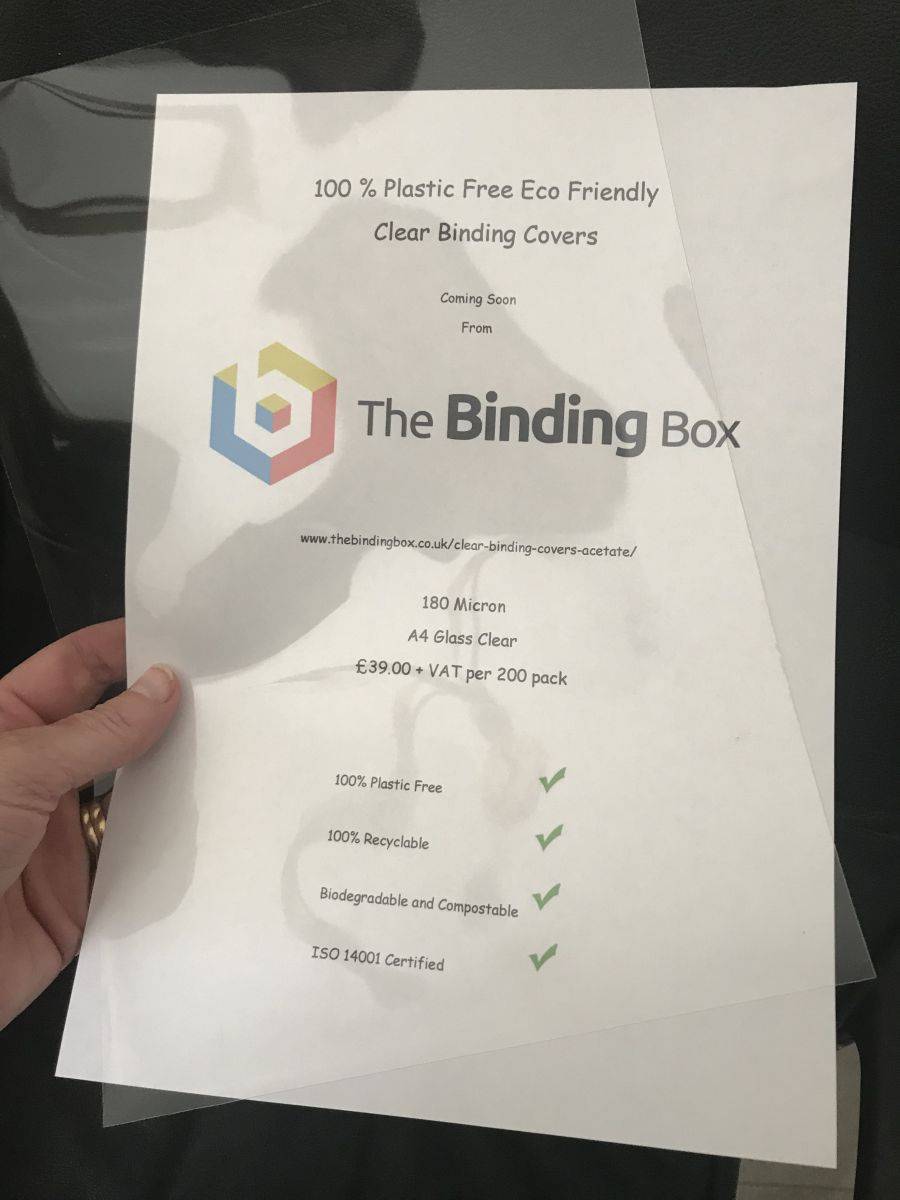 ---
13th February 2019 - Ultrabond Digital OPP
GMP Ultrabond Digital OPP stock is at full capacity for next day delivery. We stock 3" core 315mm and 440mm in both Gloss 40 Micron and Matt 43 Micron, and also 315mm and 440mm on a thinner micron option Gloss 25 Micron and Matt 28 Micron.
We also offer a selection of smaller rolls 100m-200m for those customers wishing to use Ultrabond on a 1" core. Ultrabond exceeds its reputation for being the best product on the market for digital print and has superb adhesion qualities especially when combined with Xerox and Canon prints.
We also offer a Silk Touch range from stock and HardCoat Anti Scratch Ultrabond is available to order.
---
7th January 2019 - New Year
The Binding Box are back open for 2019 for any Consumables you may need and we are fully committed to providing the best service to all our customers at all times. Should you have any questions at all please don't hesitate to call us, email us or live chat us.
---
21st December 2018 - Christmas Holidays
We'll be closing at 4.30pm on Friday 21st December 2018 and re-opening on Wednesday 02/01/19 at 9am. Any orders placed online during these times will be dispatched on our return. We still have calendar hanger stock should you need any in the New Year.
Best Wishes and thank you so much for your custom during 2018. We look forward to another successful year in 2019.
---
14th December 2018 - BOSS Digital OPP
Added online today - BOSS Premium Brand Digital OPP. More products will be added online in the New Year.
Click to view prices for BOSS Digital OPP
---
1st November 2018 - Silver Toner Foil & Silver Wires
Now that we are into November it's ok to mention Christmas. We are offering some Silver binding wire stock A4 and A5 at discounted prices perfect for 2019 Calendars. Silver Toner Foil is also on offer reduced to £60.00 per 300m roll (320mm Wide) perfect for those luxury foiled Christmas cards or any bespoke front Calendar page.
Browse Binding Wires or Browse Toner Foil
---
10th October 2018 - YouTube
Did you know that The Binding Box is part of The Finishing Point Ltd? See a small introduction to The Finishing Point on our You Tube Channel.